Welcome to St. Gertrude Parish, Krakow, MO
Let me begin by welcoming you to our site; we are honored by your visit!  Founded in 1845, St. Gertrude has been a faith-community for over 175 years. We are known for our warm welcome, strong families and excellent school (Pre-k thru 8th grade).  On these pages you will find a taste of who we are and what we are about . . . but please don't stop with just a nibble!  Contact us for more information or come join us and see for yourself.  Know that you are ALWAYS welcome at St. Gertrude!!!
Fr. Carl    
MASS TIMES
Monday-Wednesday-8:00 AM
Thursday-Friday-NO MASS
Saturday-4:30 PM
Sunday-7:30 AM & 10:30 AM
FROM OUT OF TOWN OR JUST VISITING?
Follow this link to take you to local churches for all Mass times. St. Gertrude loves to see visitors and welcome new faces to our beautiful parish.
CONFESSION TIMES
Tuesdays
7:30-7:45 AM
St Gertrude Church
Saturdays
3:45-4:15 PM
St Gertrude Church
6:15-6:45 PM
St Ann Church
Sundays
6:45-7:15 AM
St Gertrude Church
Other times by appointment with Fr Carl (636) 239-3222 x277
PRAYING THE ROSARY
Saturday evenings
at 6:15 PM
St Ann Church
Sunday mornings
at 8:15 AM
St Ann Church
Tuesday evenings
at 6:00 PM
St Gertrude Church
On the 13th of every month through October 7:00 PM under the big pavillion St Gertrude
HOLY HOUR/ADORATION
First Thursday of the month 6:00 PM
St Ann Church
Mondays 8:30 AM-NOON
St Gertrude Church
ST GERTRUDE/ST ANN PSR CONFIRMATION STUDENTS
ST GERTRUDE/ST ANN PSR FIRST COMMUNION STUDENTS
SKIP HELP
LENT AT ST GERTRUDE
HOLY WEEK
FISH FRY
DEACON DIAPER DRIVE
LENTEN FOOD DRIVE
Our parish school & PSR students, little food pantry group and St Vincent De Paul confereace are teaming up on a food drive for our mini food pantry and Borgia Food Pantry. Watch for bags and flyers in the back of church! Donations can be placed by the atlar step on the Blessed Virgin Mary side of church at St Gertrude and behind the last pews at St Ann Church. Please return your donations in the decorated bags or any bag, no later than the weekend of April - (Palm Sunday).
A special thanks to K & R Market for donating the grocery bags and to all the students for decorating them, and to the little food pantry group for all they do.
Especialy needed items: canned meats & canned fruits (pop-top lids preferred), peanut butter & jelly, boxed cereals, cooking oil, salt & pepper, tea, coffee, pastas & pasta sauces, dish & laundry detergent, paper towels, feminin products & toilet paper.
NO GLASS JARS PLEASE.
MINI FOOD PANTRY
There is an ongoing need for donations to St. Gertrude's Little Food Pantry.
Parishioners of both St. Gertrude and St. Ann churches are invited to join in the mission to maintain the pantry for people in need.
Located on the parking lot between the St. Gertrude rectory and the cemetery, the pantry is free and open to all, 24 hours a day, seven days a week. The slogan is: "Take What You Need; Leave What You Can."
All types of non-perishable food, especially protein, are needed. No glass bottles or jars. Personal hygiene items also are needed.
Please help if you can by dropping off items at the pantry. If the pantry is full, please leave items at the rectory and they will be picked up and stored for use later.
Thank you for your help.
WEEKLY READINGS
Weekly reading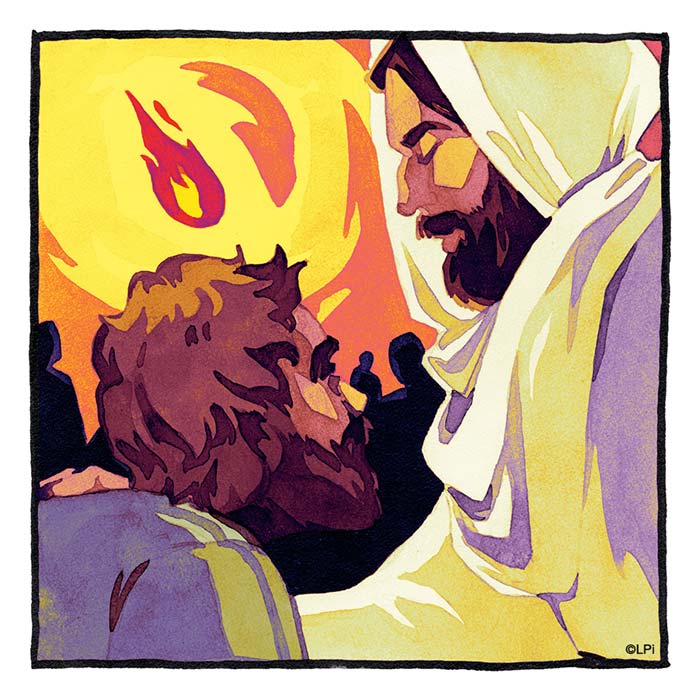 © Liturgical Publications Inc